Non-combustible cladding panels
The Acry NC panel is a glass fiber reinforced concrete panel. Colour, texture and design are customizable to help your vision for the project come to life. From the complete cladding of industrial/commercial projects to small residential accent areas, the possibilities are endless.
With the ability to offer pre-finished corner details, as well as modular sized panels that may be cleanly cut on site using standard power tools, Acrytec Panel Industries can provide a product that is brilliant, durable and long lasting, to meet your individual needs.
Our panels can even be used individually as decorative panels and accents. Creative uses included:
Soffits

Dormers

Gables

Bay Windows

Balcony Walls

Columns
finishes + colours

Custom colours available at no extra charge.
Gemtex

Both protective and decorative, Gemtex is a multi-coloured finish consisting of coloured aggregates and oversized mica flakes. Choose from our many distinct colour finishes and elevate your design with attractive and unique surfaces.

Download BIM model

Aqua

Arctic Snow

Blue Sky

Capstone

Caramel

Chipped Ice

Cookie Dough

Copper Brown

Desert Stone

Eggplant

Granite Ridge

Linen

Oakville Clay

Ocean Spray

Pepper

Plum

Rocky Road

Rustic

Slate

Tuxedo Black

Vanilla

QUARTZKOTE

Enhance your designs with panels that resemble natural coloured stone. Quartzkote finish is a multi-coloured, protective finish consisting of coloured natural stone chips. It is the most visual of the Acrytec finishes with multiple colour aggregates forming a stunning finish.


Download BIM model

Delta Sand

Frost

Glacial Ridge

Marble Chasm

River Bank

Sandy Beach

Shoreline

Warm Grey
STONE

Our stone product line features a perfect blend of rugged and smooth, providing a bold yet relatively smooth texture that is identical to real stone finishing. This panel is extremely durable and solid like stone, but continues to maintain a significantly light weight.


Download BIM model

Antique White

Buck Hide

Buff

Clay

Coal

Jade

Pearl Grey

Sandstone

Savannah

SLATE

Our slate product line will offer our customers an Italian slate finish for their projects in a selection of colours that can be modified to whatever the architect or end-users would like. The product replicates real slate, is very strong and durable like stone, while maintaining a very light weight.


Download BIM model

Antique White

Buck Hide

Buff

Clay

Coal

Jade

Pearl Grey

Sandstone

Savannah
FINE TEXTURED WOOD

Achieve a brilliant rustic aesthetic and organic ambiance with the stunning traditional appearance of wood.

Download BIM model

COCO

GUN STOCK

MOCHA

PEWTER

RED CEDAR

SILVER WOOD

NATURAL

Discover a simple finish without the aggregates and bring out the natural beauty of the design.

Download BIM model

Antique White

City Scape

Dover White

Gauntlet Gray

Light Gray

Smoke House

Snow White

Natural Taupe

Tricorn Black
metallic

Perfect for modern design, the Metallic panel shimmers in the sun and contributes to the dynamic appearance of your building.

Download BIM model

GUN METAL

COPPER

ROSIE RED

GOLD LEAF

BLACK SPARKLE

fine quartz

Medium sandblast texture finish embedded.

Download BIM model

AQUA BLUE

DARK GREY

IVORY

LIGHT GREY

MAHAGONY

RAVEN

RUSTIC RED

TERRACOTTA
ACRYLINEA

With a sleek unique design, the Acrylinea line offers pre-finished corners for a fast, clean and durable installation

gs-27a

gs-30b

gs-32

gs-32a

gs-32b

gs-33b

gs-33bc

gs-33g

gs-33h

gs-34f

gs-34g

gs-54
EUROKOTE

Choose from thousands of colours from premium paint manufacturers Benjamin Moore and Para Paints, and we will match the colour for your Eurokote panels. Ask our representative for more information.

MASONRY STAINING

Revive your project's exterior with a new look by applying a fresh stain to your masonry, skillfully applied with a European silicate based mineral.

EIFS

Resembling stone or stucco, EIFS comes in limitless colours, many textures and can be fashioned into any shape or design.
* Texture and colour displayed are for demonstration. Slight variation on colour may occur. Acrytec recommends that a final colour selection be made from a physical sample in the desired texture and colour.

COMPONENTS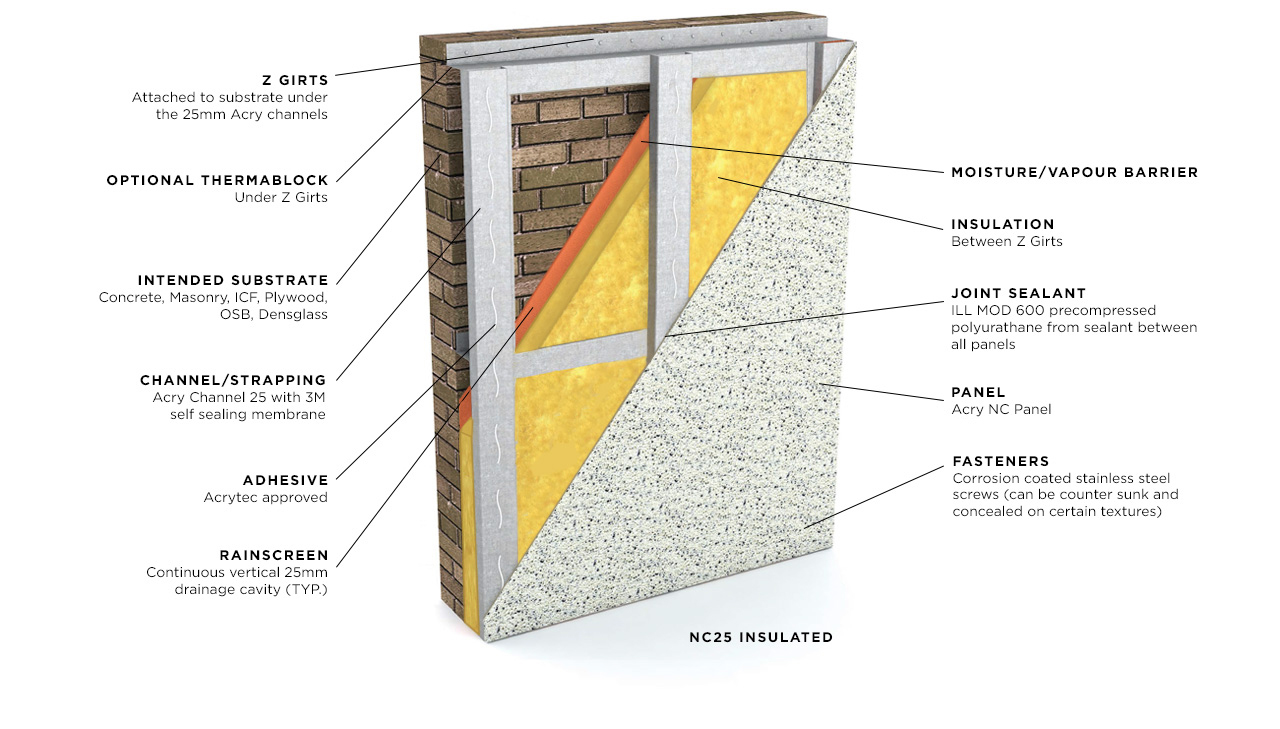 DIMENSIONS

Gemtex, QuartzKote, Eurokote, Metallic and Natural are available in 48"x96" and 16"x48"
Faux Wood are available in 8"x8'
Slate and Stone are available in 16"x48"

WEIGHT

Standard size - approximately 121.6 lbs (depending on finish)
Acry Block - approximately 20.2 lbs (depending on finish)

DEAD LOAD WEIGHTS

Acry NC Panel : 3.8 lb per sq/ft (depending on finish )
Acry Channel 25 : 7 lb per 8 foot length
Acry 90 : 3 lb per 8 foot length
Acry Band : 1.5 lb per 8 foot length