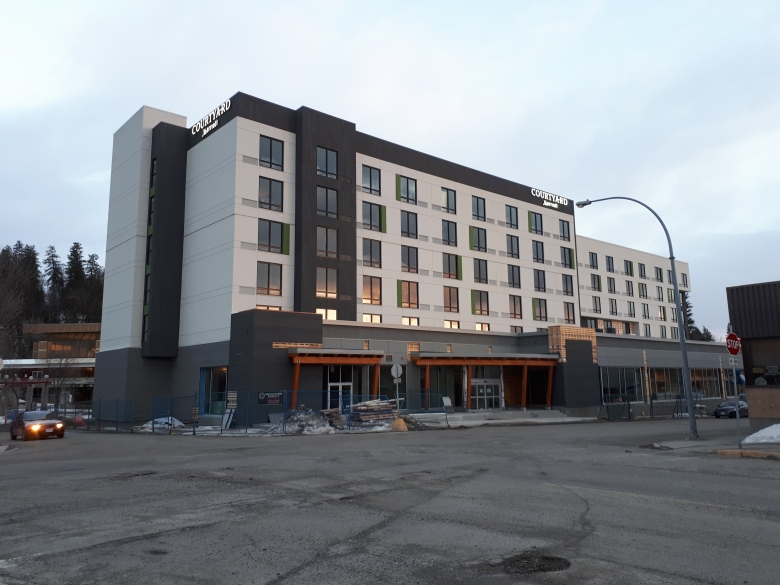 Acrytec & The Brand New Courtyard Mariott
Recently coming to completion, the brand new Courtyard Prince George is a state-of-the-art architecturally beautiful building. The hotel is built on a wood frame base, since Prince George is the spruce capital of Canada, giving it a uniquely cultural feel.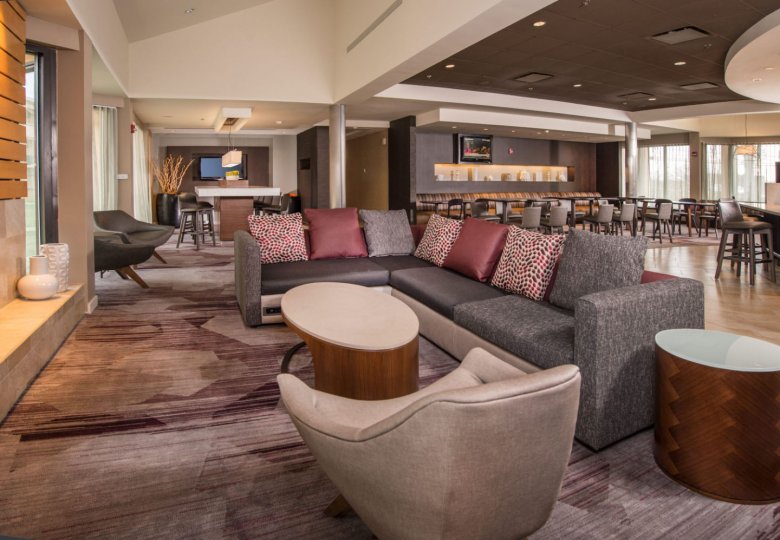 The Mariott uses our fine quartz finish in 3 different colours giving the building a beautiful modern façade. Acrytec panels provide a premium finish with unmatched customization. Our products are customizable from colour to texture to design to give you the tools you need to help make your dream project come to life. The clean look of the Courtyard Mariott can be applied to any size project by using our ability to offer pre-finished corners, and modular sized panels that can be cut to your choosing on site. This project gives a refreshing look to the city's bustling downtown area, thanks to the textured fine quartz finish on the exterior.
Acrytec is proud to have been chosen to finish this beautiful project. Acrytec is the number one choice for any and all panelling needs you have. Our panels can be custom made to match any colour you need, and in 12 different finishes. This project is very exciting for all of us at Acrytec and we are very proud to show the final product to all of you. If you would like to learn more about our products be sure to check out the products page of our website and take a look for yourself.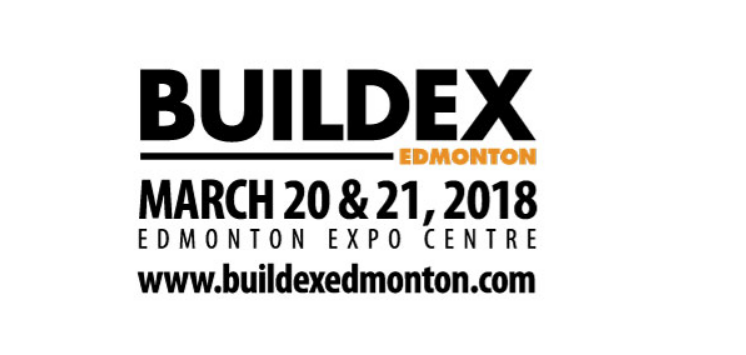 Continuing Innovation at BuildEx Edmonton!
Continuing our commitment to innovate in 2018, we are beyond excited to announce that Acrytec will be an exhibitor at BuildEx Edmonton later this month! From the 20th to the 21st of March, find us at Booth 603 at the Edmonton Expo Centre. The BuildEx show brings together best in the business in construction, renovation, architecture, interior design and property management.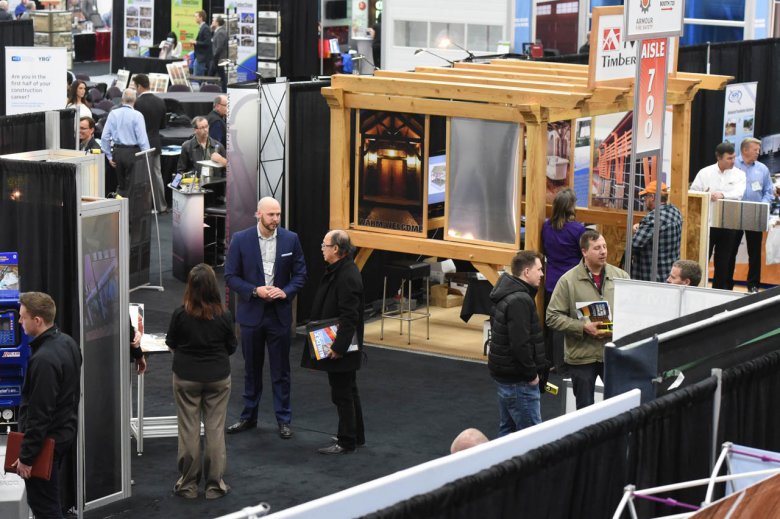 BuildEx Edmonton attracts over 2,500 attendees annually, as well as over 150 exhibits and 35 educational seminars. This show is the number one spot to see the products of the future as well as meet those behind them. Acrytec is very proud to be part of the 2 full days of professional development seminars, networking opportunities and hundreds of products or services all under one roof.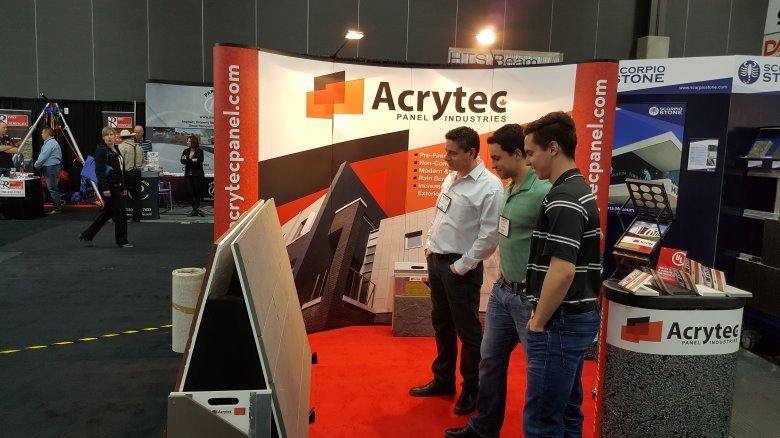 At Booth 603, Acrytec will be continuing to showcase our industry leading systems and technologies that continue to push the boundaries of design and architecture for projects of any size. On display will be our products that, day in and day out, produce jaw-dropping reactions. You will also get to see behind the rigorous engineering that has gone in to formulate our systems and technologies, our extensive array of finishes and colour options make sure your project is aesthetically stunning. With the ability to replicate real finishes like slate and quartz, each project is guaranteed stun in both its architecture and its design. Be sure to stop by booth 603 to get a glimpse into what has pushed, and what continues to push, Acrytec to the forefront of this industry.
Looking forward to seeing you at
BUILDEX EDMONTON
March 20 & 21, 2018
Save $25 compliments of Acrytec!
Go to www.buildexedmonton.com and register for FREE tradeshow access
Be sure to visit us at booth # 603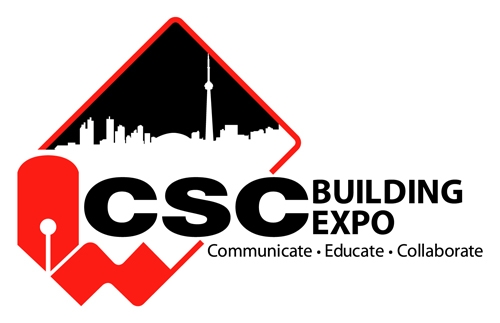 Acrytec at CSC Building Expo
The CSC Building Expo is returning this year! The CSC Building Expo, Canada's best technical tradeshow, is coming to the Metro Toronto Convention Centre this year on February 28th. We are proud to announce that Acrytec will be attending as a contributor and that tickets for the event are almost sold out!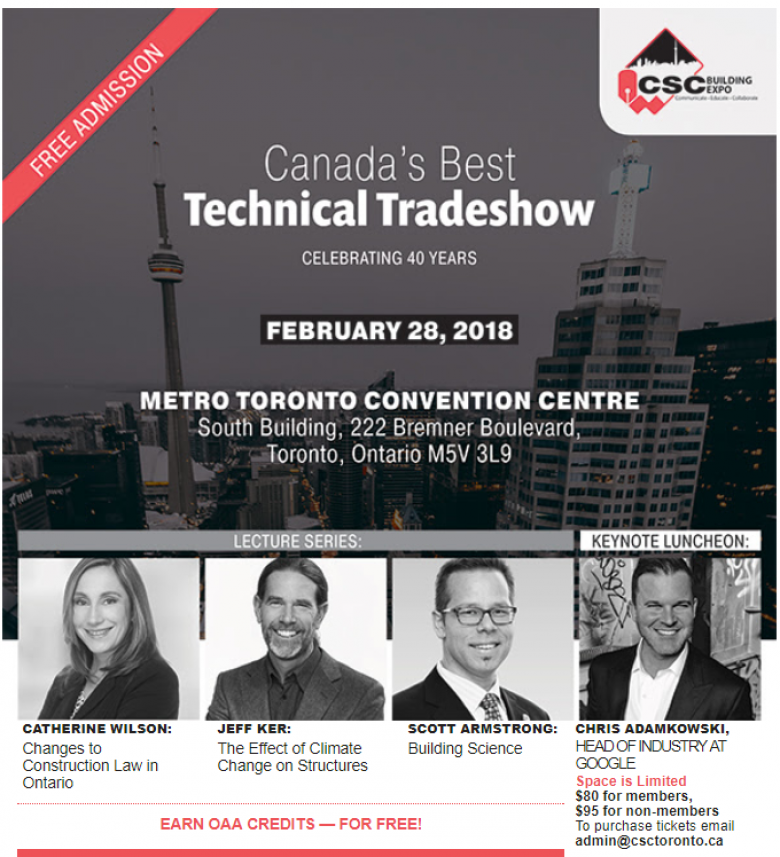 CSC is a national multi-disciplinary, non-profit association with chapters across Canada. CSC is committed to delivering progressive education, certification, publications and professional networking opportunities for the design + construction community. CSC Seeks to enhance the quality of the design and management aspects of construction activity through programs of publication, education, professional development, and certification, believing that in so doing it can best contribute to the efficiency and effectiveness of the industry as a whole.
Be sure to check out Acrytec and all of our revolutionary products at the Metro Toronto Convention Centre on February 28.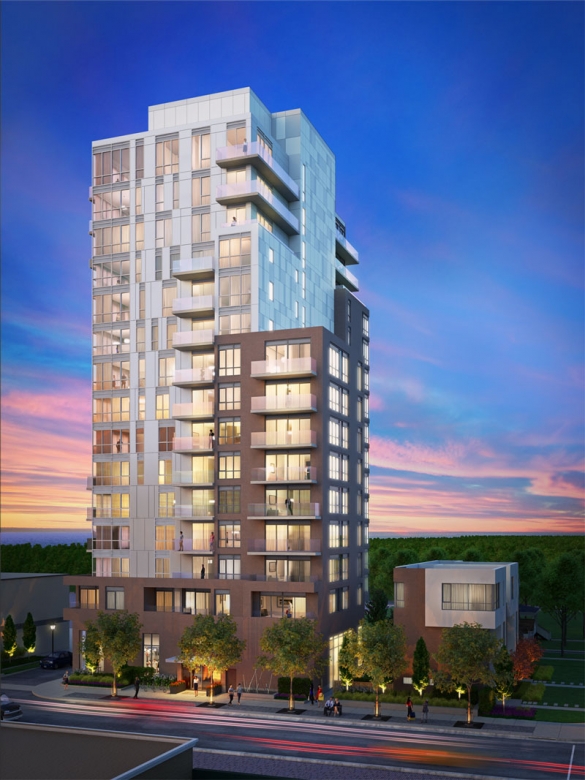 Acrytec & The Nola in Port Credit
Acrytec is ecstatic to announce that our latest project, the fabulous Nola in Port Credit. Nola is being developed by FRAM Development Group and construction is underway. This project will be incorporating our Fine Quartz finish in 3 different colours throughout the building.
Designed by Brook McIlroy Inc and Giannone Petricone Associates Inc, Nola is a fresh take on condominium design. Gracing the shores of Port Credit with a unique style destined to elevate urban living to new heights through remarkable architecture and design. With architecture and suites designed to maximize convenience, beauty and style it is no surprise that Acrytec was the choice for panelling. With over 30-plus years of experience, Acrytec has a pedigree for laying the finest finishes on striking buildings all over the world.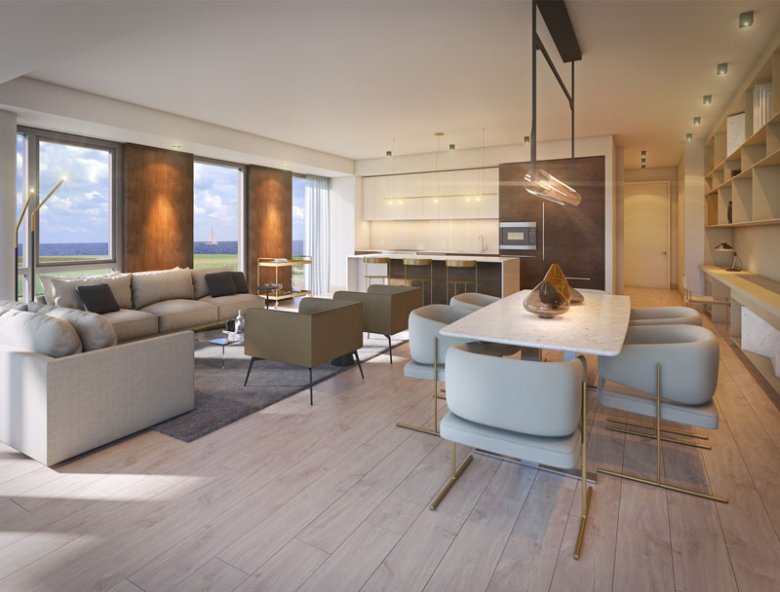 Nola is located on the southwest corner of Ann Street and High Street, at the steps of Port Credit Village and the GO Train Station. The building raises 15 storeys over Lake Ontario in a courtyard garden setting and embodies a modern style that is as unique as it is iconic. Hugging the shores of Lake Ontario, Port Credit is a marine community that over the years has shed its small-town roots for a hip persona. As Mississauga's trendsetting waterfront playground, Port Credit has a palpable energy.
We are extremely enthusiastic about this opportunity and cannot wait to see how the finished product will look with our beautiful Fine Quartz finish. Be sure to check out all of the products on our site and see what Acrytec can do for your next project!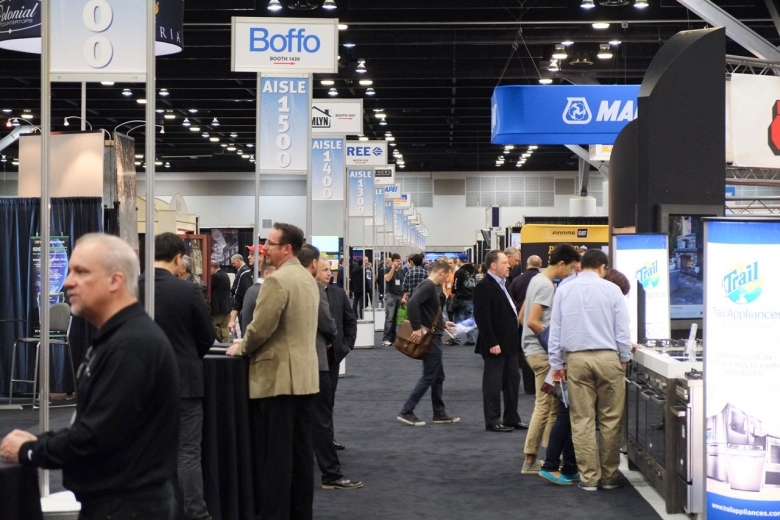 Acrytec at BuildEx Vancouver
As 2018 starts, we here at Acrytec are tremendously focused in continuing to innovate in 2018. 2017 was a year of evolution and progression, with many exciting announcements. Part of these constant steps onward is our ability to adapt to the landscape of the industry, bringing forward principal technologies and systems that continue to break barriers and push the creative envelopes. With that being said, we are excited to reveal that we will be attending the BuildEx Trade Show in Vancouver, on February 14-15. The show will be held in the Vancouver Convention Centre, in the West building. Acrytec will be attending at Booth #715.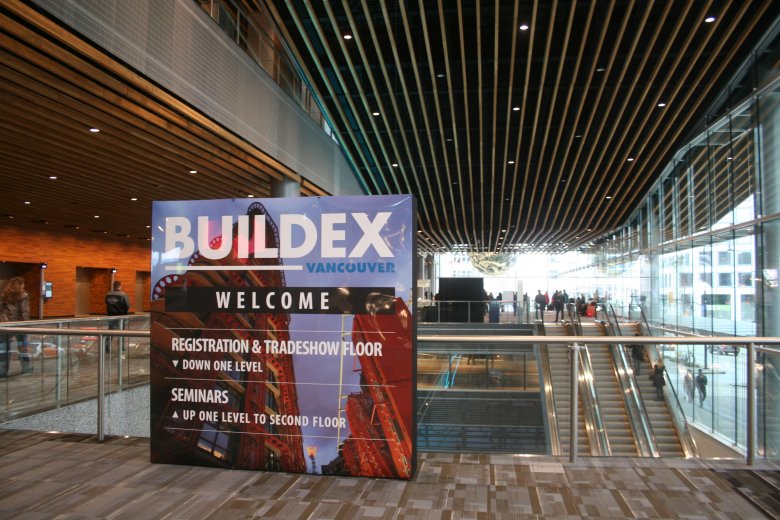 BUILDEX Vancouver is Western Canada's largest tradeshow and conference for the Construction, Renovation, Architecture, Interior Design and Property Management industries. With over 600 exhibits, BUILDEX attracts over 14,000 attendees annually. Also featuring the largest seminar program for professionals in building, designing and managing real estate, featuring over 100 speakers and more than 70 credit-approved educational seminars. An hour in a seminar could save you days or even weeks of research or future problem solving.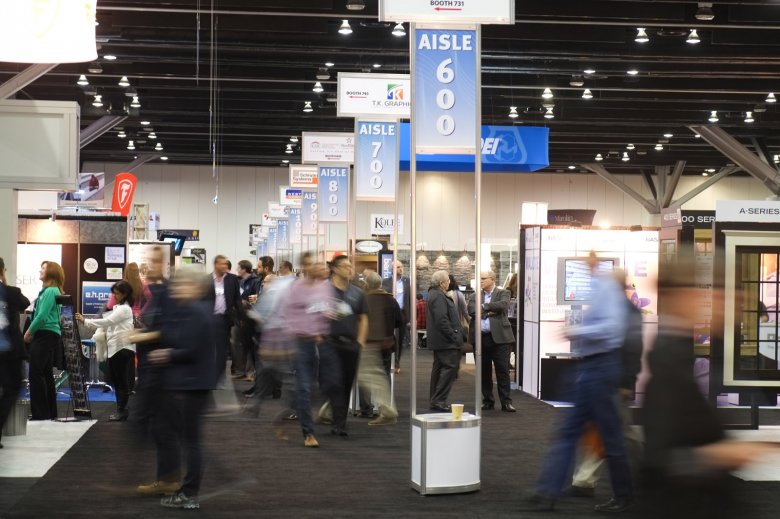 At Booth 715 immerse yourself in all things Acrytec. See our finest products, learn about our modest early stages and rich past, and appreciate first-hand what drives us to be an industry leader. Buildex unites some of the best global leaders in design, construction, product innovation, technologies, best practices, and applications. We are excited for all of the new connections we will make, as well as the existing connections we will continue to build.
Looking forward to seeing you at
BUILDEX VANCOUVER
February 14 & 15, 2018
Save $25 compliments of Acrytec Panel Industries
Go to www.buildexvancouver.com and register for FREE tradeshow access
Be sure to visit us at booth #715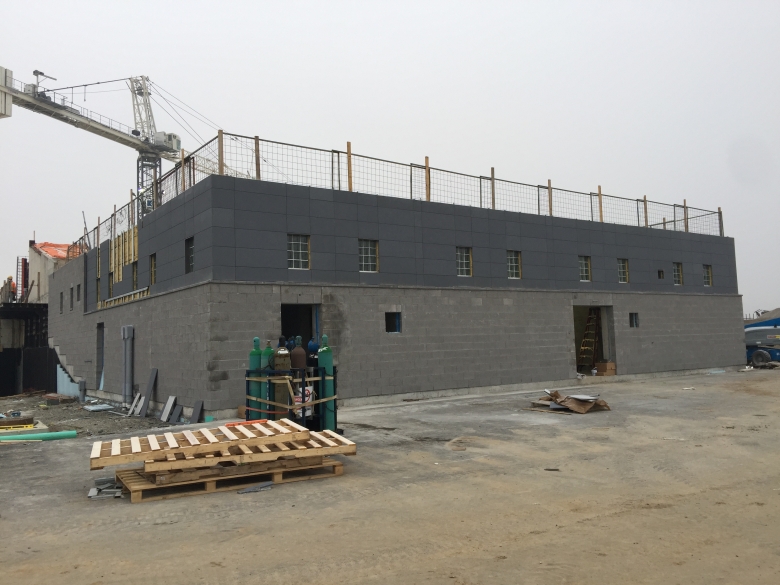 Installation of Acrytec Panel Begins in Georgetown
Acrytec is eager to announce that installation of our panelling has begun at the Zone 4 Water Treatment Plant in Georgetown. Using Acrytec's wood and natural finishes to create a beautiful façade. Acrytec Panel has been consistently trusted to give buildings a unique, attractive look time and time again.
Kenaidan Contracting as well as the Region of Halton are contracted to complete the project. Kenaidan Contracting is an industry leader in regards to contracting, design build, and construction management. Acrytec is excited to be part of the building of a novel municipal building. Our products not only benefit the exterior, but our commitment to being environmentally sociable will help you rest easy knowing our products won't harm the planet.
To be completed in the spring of 2018, we are very excited to see the final product of this brand new facility. Check out our portfolio to see all of Acrytec's past work on buildings of all kinds all over the world.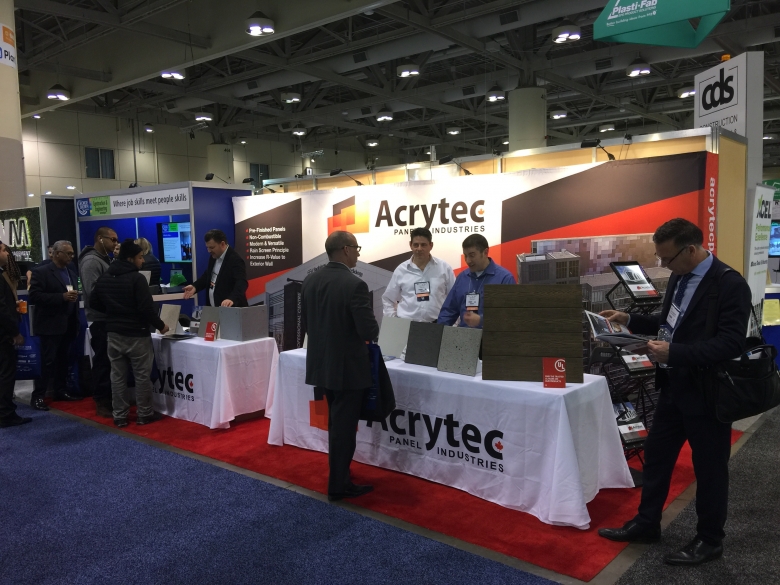 Construct Canada Wrap Up
Acrytec is proud to have been a part of Construct Canada, North America's largest annual exposition and conference on design, architecture, construction, and real estate. Thank you to the 30,500 who attended the event! As Construct Canada wraps up today at the Metro Toronto Convention Centre, we hope you got the chance to meet fellow industry professionals, source the latest materials, products, tools, and technologies, and discover the newest innovations including our non-combustible panels. With over 1,600 exhibitors and 350 seminars, keynotes, summits and roundtables led by a roster of industry experts, The Buildings Show makes for the best environment to network with a wide breadth of exhibitors, and learn from an amazing diversity of programming options.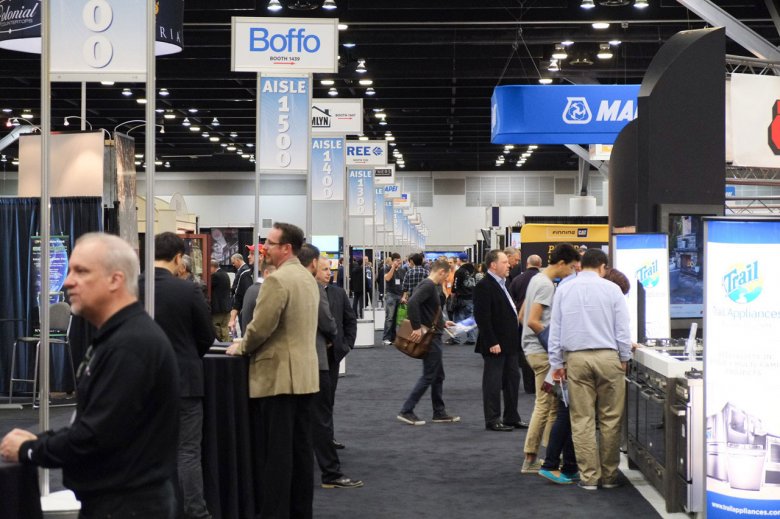 We are excited to have presented the Acry NC panel, and some of our newest techniques and features that have helped Acrytec maintain status as a leader in quality, sustainability, and innovation. The Acry NC panel is a glass fibre reinforced concrete panel that can be finished in customizable colours and a wide variety of textures to meet the visions of today's most forward-thinking architects and engineers. With the ability to offer pre-finished corner details as well as modular sized panels, Acrytec is committed to providing brilliant, durable, and long lasting products that meet your needs. Whether looking to breathe new life into old and tired structures, or to create a new and vibrant statement, Acrytec's many finish options are sure to please, as we believe in engineering our systems to the highest worldwide standards.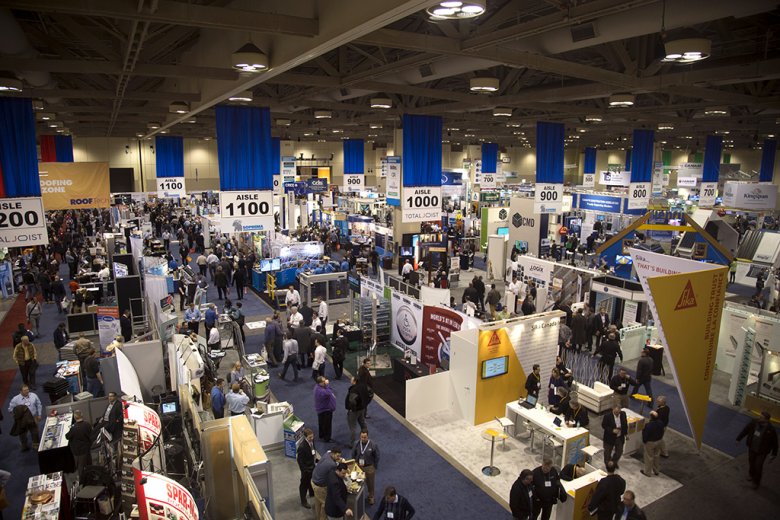 We are thrilled with the overwhelming amount of interest that we have received at this years' exhibition. It was a pleasure to meet so many brilliant minds in one place - Acrytec is constantly seeking new and efficient ways to better serve our customers and partners. There is no need to fret for those who could not make it to this years' show, our Acry NC panel is available to preview online.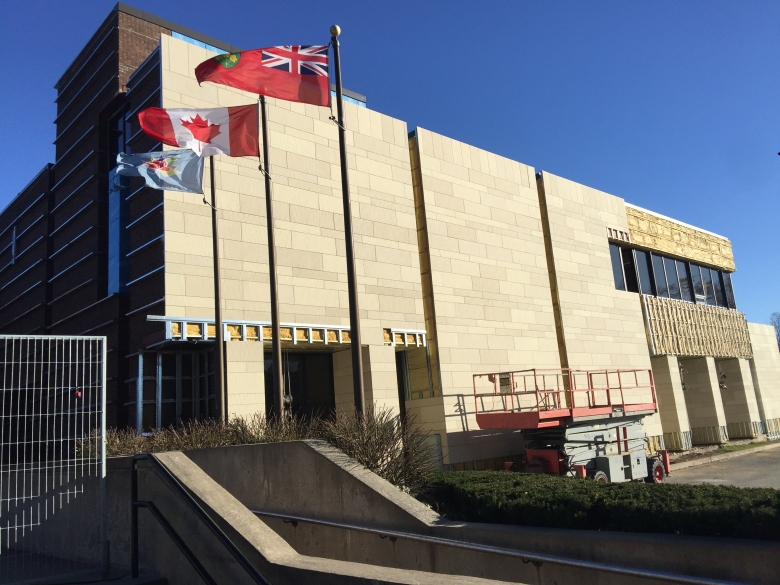 Renovations Continue at Niagara Falls City Hall
Exciting renovations to Niagara Falls City Hall are moving forward. One of the main changes to the building is the application of Acrytec's NC25 panelling, in three custom made colours. The $4.4 million plan to renovate the building are expected to be completed by the end of the year.
Majority of the renovation is to support City Hall's energy efficiency. Niagara Falls Finance Director, Todd Harrison, explains, "Each of those aspects are needed to be able to reduce our carbon footprint. We're anticipating that we will have energy reduction after it's all said and done." At Acrytec, we continue to pledge to take initiatives to protect the environment, and creating products that follow that.
We are very excited to see the finished building and are looking forward to the transformations it is bringing to the Niagara Falls area, including the positive effects on the environment.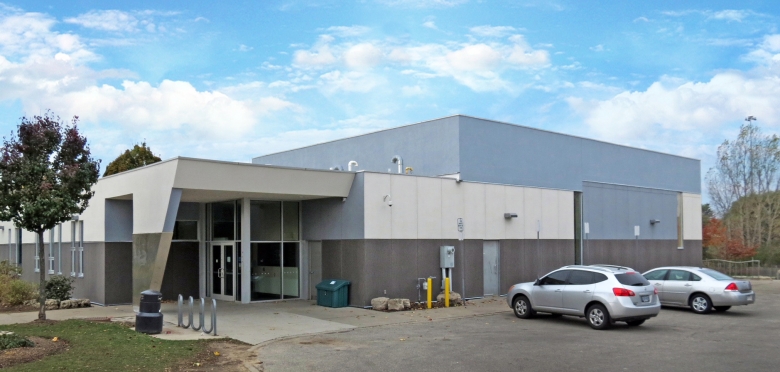 Construction Completed at Chandler Mowat Community Centre
Construction at Chandler Mowat Community Centre has been completed. The Kitchener community centre has been panelled with Acrytec Gemtex. Our Gemtex panelling is a multi-coloured protective and decorative coating consisting of oversized mica flakes, embedded in a clear resin, giving designers the ability to add a unique, textured surface. To give the building a textured finish, our slate and fine quartz finishes were used in ivory and light grey, giving the building a rock-like look. Acrytec panels are offered in a variety of colours, for no extra cost, allowing your creative vision to come to life seamlessly. Acrytec is very delighted with this finished product, and are thrilled for what it brings to this community.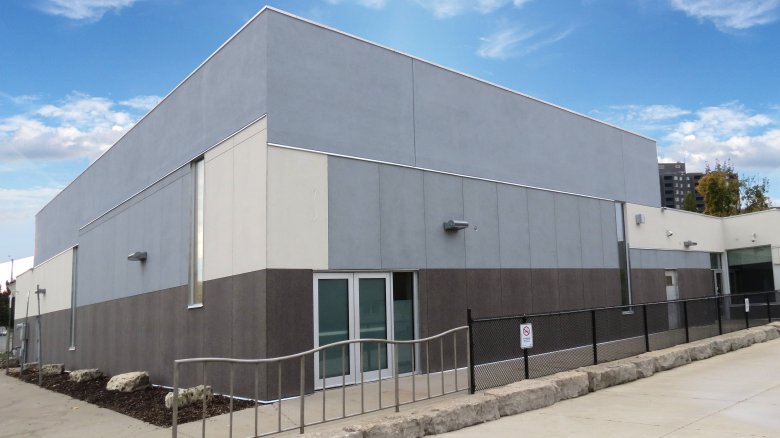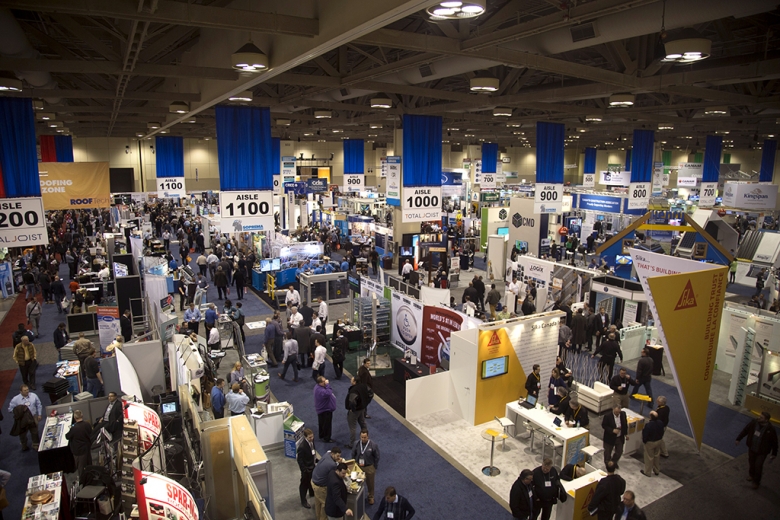 Acrytec at Construct Canada
Coming soon to Toronto is Construct Canada, North America's largest annual exposition, networking, and educational event for design, architecture, construction and real estate. Acrytec will be attending from November 29th – December 1st at Booth 926 in the Metro Toronto Convention Centre. With over 1,600 exhibits, this is the ideal marketplace to meet key industry professionals, discover new innovations, and source the latest materials, products and tools.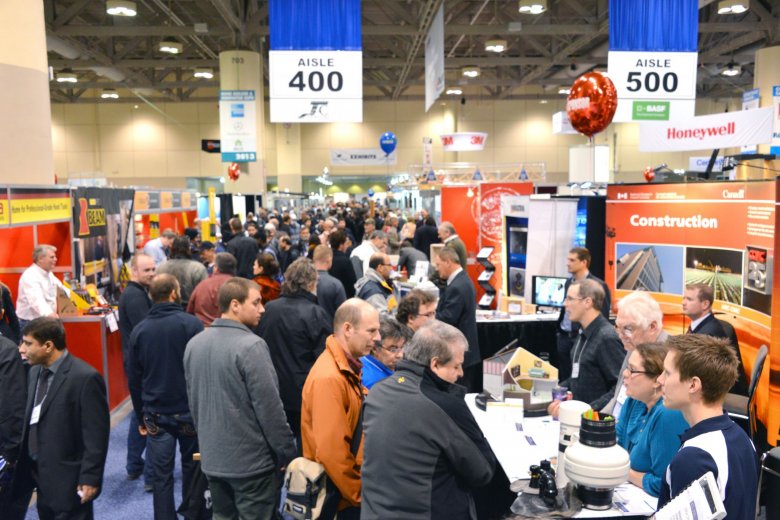 More than 30,500 trade professionals attend the show annually to discover new innovations across the building industry and source the latest technologies from Canadian, U.S and international exhibitors.On display, in Booth 926, will be our impressive line of products. Acrytec's innovative cladding systems offer over 10 different finishes in any custom colour. At our booth you will see some of our new technologies, techniques, and features that have helped Acrytec maintain our status as an industry leader in sustainability, innovation, and quality.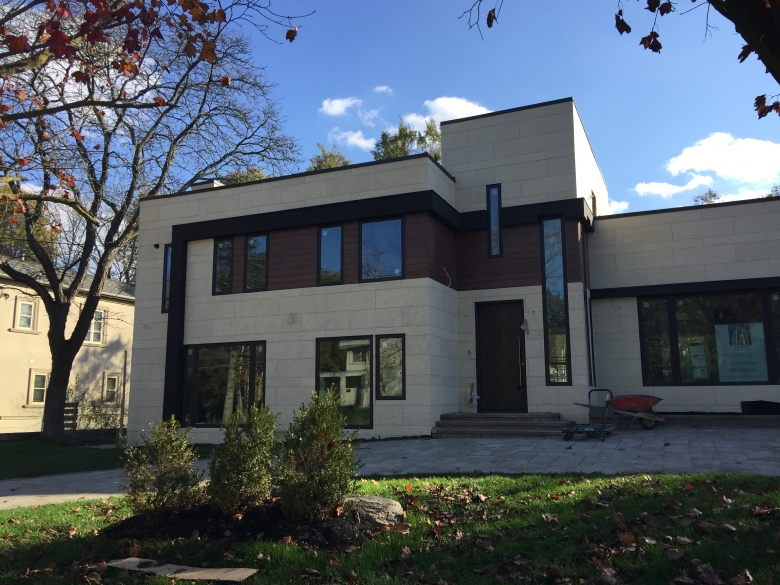 Recently Finished project in the Bridle Path
Acrytec recently completed a project in the esteemed Bridle Path area of Toronto. This modern looking home that was completed by Grand Design Build is draped in our 16" x 48" stone panel, and our 8"x48" modular panel. With over 10 different finishes available for our panels, Acrytec can provide a product that is brilliant, durable and long lasting, to meet your individual needs. We are proud to contribute to this renowned neighborhood's prestige and quality. Modernizing your home in a durable way is effortless with Acrytec paneling systems, creating beautiful facades that are environmentally friendly and can stand the test of time.